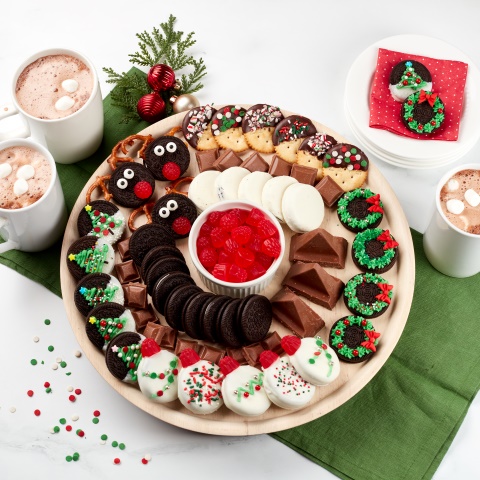 Festive Decorated Cookie Dessert Board
Indulge in this festive dessert board that's perfect for your holiday gatherings. Crafted with care and creativity, this board is sure to delight one and all with the array of sweet treats, including fun decorated cookies.
Servings
Photo shows approximately 22 servings.
Ingredients
Maynards Swedish Berries
Decorated Oreo Cookies (See Tips.)
Chocolate-dipped Ritz Crackers (See Tips.)
Oreo Cookies
Oreo White Fudge Covered Cookies
Cadbury Dairy Milk Milk Chocolate, broken into squares
Toblerone Swiss Milk Chocolate, broken into triangles
Prepared hot cocoa
Miniature marshmallows
Preparation
Place

Swedish Berries in small bowl, then place the bowl on a large platter or serving board.

Arrange

all remaining ingredients except the hot cocoa and marshmallows on platter as show in photo.

Fill

mugs with hot cocoa, then top with marshmallows just before serving the dessert board.

Cookie

and hot cocoa boards can be prepared for any number of servings, depending on the size of the gathering. Use a guideline of 1 (6- to 8-oz.) mug of hot cocoa and 1 serving of cookies per person. The number of cookies per serving will depend on what cookies are served. Follow the serving size listed in the recipe, or on the package if serving undecorated cookies.
Recipe Tips
Decorated Cookie and Cracker Recipes


Click to find the recipes for the decorated cookies and chocolate dipped cracker recipes.
430604