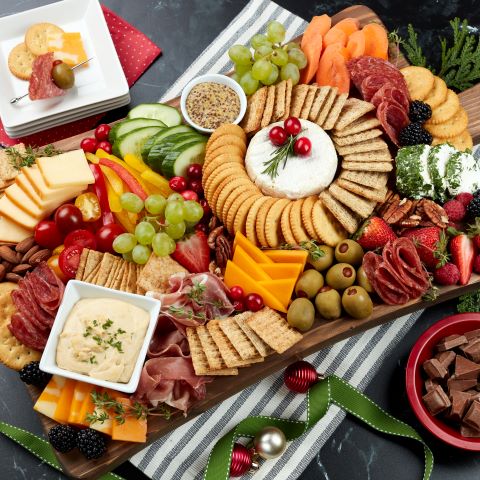 Savour the Season Charcuterie Board
This curated charcuterie board is perfect for any holiday gathering - big or small. It brings together a variety of crackers, cheeses, meats, fruits and vegetables. Fresh cranberries and sprigs of fresh herbs add the perfect finishing touch to this colourful festive board.
Servings
Photo shows approximately 16 servings.
Ingredients
Cheddar cheese, sliced
Gouda cheese, sliced
Brie cheese round
Herbed goat cheese, sliced
Salami slices
Thin prosciutto slices
Ritz Crackers
Triscuit Balsamic & Basil Crackers
Triscuit Cracked Pepper & Olive Oil Crackers
Wheat Thins Crackers
Hummus
Old-style mustard
Mixed red and yellow pepper strips
Carrots, peeled, diagonally sliced
English cucumber slices
Mixed fresh berries
Cherry tomatoes
Seedless green grapes
Stuffed green olives
Whole almonds
Pecan halves
Cadbury Dairy Milk Milk Chocolate, broken into squares
Toblerone Swiss Milk Chocolate, broken into triangles
Preparation
Place

cheeses, meats and crackers on large board or platter.   

Spoon

hummus and mustard into small bowls.  Add to board.  Fill in empty spaces on board with vegetables, fruits, olives and nuts.  

Serve

with chocolates.
Recipe Tips
Special Extra


Use fresh cranberries, and fresh thyme and rosemary sprigs to garnish the board before serving.

Note


Cheese and meat boards can be prepared for any number of servings, depending on the size of the gathering. Use a guideline of 30 g cheese, 15 g meat, 30 g crackers, 1 Tbsp. hummus and 1 tsp. mustard per person.
430587