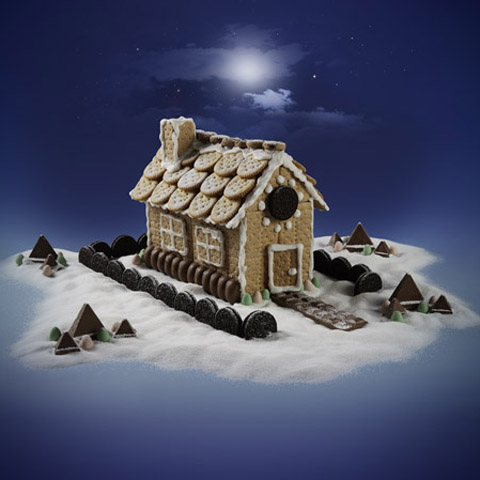 HONEY MAID Holiday House
Ingredients
¼ cup warm water, divided
2 cups icing sugar
24 Honey Maid Wafers
30 Ritz Crackers
8 Mini Chips Ahoy! Cookies
4 Cadbury Dairy Milk Oreo Chocolate Bars (38 g each)
1 bar (360 g) Toblerone Swiss Milk Chocolate
1 bar (100 g) Toblerone Swiss Milk Chocolate
1 pkg. (200 g) Cadbury Mini Eggs Candy
1 bar (100 g) Cadbury Dairy Milk Milk Chocolate
15 Oreo Cookies, cut in half
Granulated sugar and additional icing sugar
Preparation
Add

3 Tbsp. warm water to 2 cups icing sugar in medium bowl; mix well. If necessary, stir in enough of the remaining 1 Tbsp. warm water until icing is of desired piping consistency. Spoon into decorating bag fitted with small star tip.

Cover

work surface with wax paper. Use 13 of the graham wafers to make 4 walls as shown in photo, cutting wafers into smaller pieces as necessary and securing all pieces of each wall with some of the prepared icing. Place walls in single layer on prepared work surface.

Use

4 of the remaining graham wafers to make each of the 2 roof pieces, securing pieces with some of the remaining icing.

Cover

remaining icing. Let stand at room temperature until ready to use. Let wall and roof pieces stand overnight in cool dry place to allow icing to set before using pieces to assemble house.

Stand

4 walls on foil-covered board or tray, securing all pieces with some of the piped icing. Let stand 2 hours. (Cans or boxes can be used to support walls until icing has hardened.)

Attach

roof pieces to walls of house, using piped icing to secure all pieces. Let stand overnight in cool dry place.

Cover

bottom edge of 1 roof half with row of 5 crackers, securing crackers to roof with icing. Repeat to make 2 additional rows, overlapping edges of crackers as necessary to resemble shingles. Repeat with remaining crackers on remaining half of roof. Attach mini chocolate chip cookies to top peak of roof with icing.

Break

1 of the remaining graham wafers into 4 rectangles. Cut off bottom short end of 2 of the wafer pieces on a 45° angle as shown in photo, then use all rectangular pieces to make chimney, attaching to roof with icing.

Secure

Cadbury Dairy Milk Oreo Chocolate Bars to base of 2 sides of house as shown. Use remaining ingredients to make windows, door, path, fence and garden as shown.

Spread

granulated sugar around house for the snow, then decorate with additional cookies, crackers and candies as desired.

Sift

additional icing sugar over the house and its surroundings to resemble freshly fallen snow.