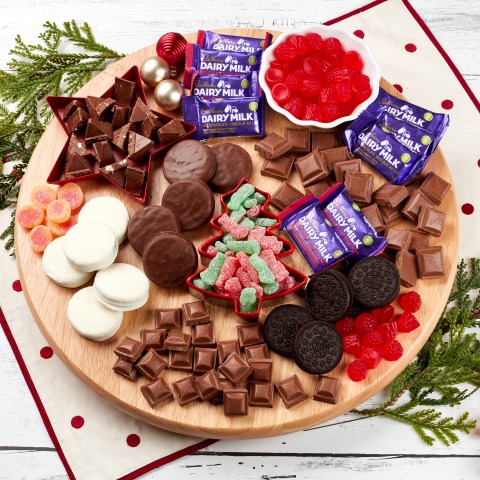 Sweet Spot Snack Board
Spread some holiday joy and bring everyone together with this delightful and delicious snack board. Featuring assorted candies and chocolate, it's the perfect addition to your next holiday gathering.
Servings
Photo shows approximately 24 servings.
Ingredients
Maynards Sour Patch Kids Candy
Maynards Swedish Berries
Toblerone Swiss Milk Chocolate
Oreo Cookies
Fudge-Covered Oreo Cookies
Oreo White Fudge Covered Cookies
Cadbury Dairy Milk Milk Chocolate, broken into individual squares
Cadbury Dairy Milk Milk Chocolate Mini Bars
Maynards Fuzzy Peach Candy
Preparation
Place

Sour Patch Kids, Swedish Berries and Toblerone Chocolate pieces in small bowls or holiday containers, then place the bowls on a large board or platter.  

Add

cookies, chocolate pieces and fuzzy peach candies to the board.

Sweet

snack boards can be prepared for any number of servings. For each guest, use a guideline of 1 or 2 cookies and 20 g candies per person.
Recipe Tips
Special Extra


Add fresh strawberries, dried cherries and/or sweetened dried cranberries to the dessert board.
430594