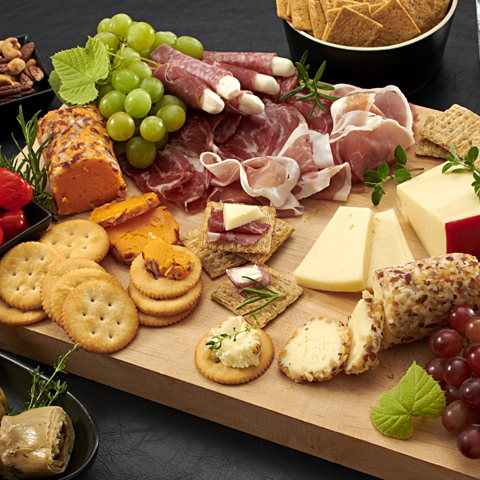 Fancy Meat and Cheese Board
Servings
Varies - see recipe preparation step for guidance
Ingredients
Thinly sliced prosciutto and capicola
Salami-wrapped mozzarella sticks
Nut-covered cheddar cheese log
Blue and fontina cheeses
Seedless green and red grapes
Drained marinated mixed olives, grilled artichoke hearts, and sweet piquanté peppers
Mixed nuts
Ritz Crackers, Triscuit Original Crackers, and Wheat Thins Crackers
Fresh herbs, such as rosemary and thyme
Preparation
Arrange

meats and cheeses on large board or platter. Fill in spaces with small bunches of grapes; and bowls filled with olives, peppers, artichoke hearts and/or nuts. Add crackers. Serve additional crackers in bowls or baskets next to the board.

Note:

Meat and cheese boards can be prepared for any number of servings, depending on the size of the gathering. Use a guideline of 15 g meat, and 30 g EACH cheese and crackers per person. For a well-balanced board, fill in empty spaces on the board with fresh fruit and marinated vegetables. For example, for 16 servings, figure on purchasing 1 lb. (450 g) of cheese and 1/2 lb. (225 g) of thinly sliced deli meat. Have plenty of crackers available for guests to choose from, along with the fruit and marinated vegetables.
Recipe Tips
Make it Simple


Thinly sliced meats, such as those shown in the photo, can often be purchased in an assortment package found in the deli or cheese departments of your supermarket. Check out the store's olive or salad bar for the marinated vegetables and olives. Try serving an assortment of olive varieties, such as those flavoured with crushed red pepper or herbs.

Vary the Cheeses and Meats


For a more interesting board, serve 3 or 4 different kinds of cheeses having a variety of textures, shapes and flavours. Soft, semi-soft and firm cheese in a variety of shapes, such as cubes, slices, logs and wedges, all add interest. Sliced meats can either be rolled up or just laid out flat. Or, roll the sliced meat around mozzarella cheese sticks. Salami is commonly available in mild, spicy or pepper-encrusted slices.

Cheese Tips


For best flavour, let the cheeses sit for about 15 min. at room temperature before serving. When serving a wedge or full chunk of cheese, be sure to place a knife on the board for each variety of cheese being served.
341454