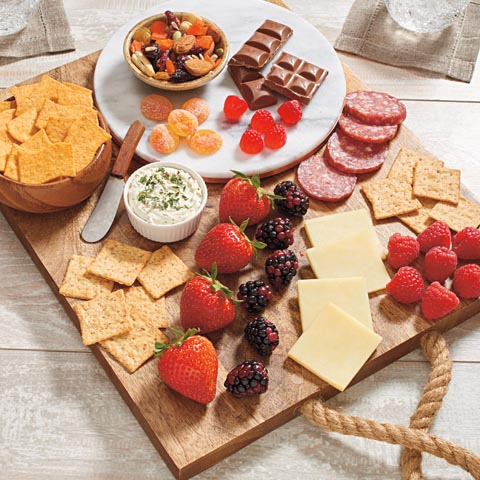 Couple's Night Snacking Board
Servings
Image shows 2 servings.
Ingredients
Garlic and herb fresh soft cheese
Sliced stick salami and white cheddar cheese
Crispers All Dressed Crackers and Wheat Thins Multigrain Crackers
Fresh strawberries, raspberries and blackberries
Dried fruit-and-nut mix
Maynards Fuzzy Peach Candy and Maynards Swedish Berries Candy
Cadbury Caramilk Chocolate and Cadbury Dairy Milk Milk Chocolate Bars
Preparation
Spoon

cheese spread into small bowl; place on small board or platter. Add salami, cheddar cheese and crackers to board.

Fill

in empty spaces with remaining ingredients.

Snack

boards can be prepared for any number of servings. For each guest, use a guideline of 30 g cheese, 15 g meat, 2 Tbsp. spread and 20 g crackers. Add 40 g candy for a sweet treat. For a satisfying and well-balanced board, fill in any empty gaps on the board with fresh berries, and ¼ cup dried fruit-and-nut mix.
Recipe Tips
Vary the Cheese, Meat and Fruits


Soft, semi-soft and firm cheeses come in cubes, slices, logs and wedges - all of which can add more interest to the board. Substitute leftover cooked turkey or ham for the salami. Choose fruits that are in season and have complementary flavours and shapes, such as clusters of grapes, sliced crisp apples, sliced fresh pears and soft berries.

Make it Simple


Pre-sliced and cubed cheeses and meats; and prepared dips and spreads can be purchased from your supermarket.
398672